Installing ScannerBox
System Requirements
Squeezebox™ Radio
Logitech Media Server 7.7 series
(Click on images for larger view.)
1. To install ScannerBox you must have a Logitech Media Server up and running.
To download Logitech Media Server go to mysqueezebox.com.
2. Open a browser and navigate to the Logitech Media Server. (normally http://127.0.0.1:9000 on the computer running the Logitech Media Server software)

3. Select the "Settings" link at the bottom right corner of the page.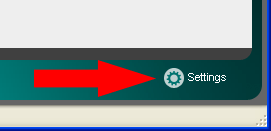 4. Select the "Plugins" tab from the newly opened window.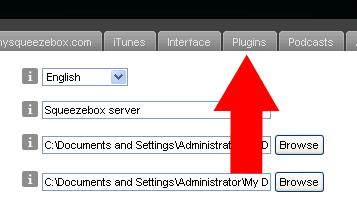 5. Scroll to the bottom of the page to the "Additional Repositories" section and enter the ScannerBox URL that was emailed to you. (URL is case-sensitive)
This is a custom URL unique to you so please keep it safe.

6. Click the "Apply" button and the page should reload. The page will now display "Changes have been saved." at the top. Verify that the URL is still present in the "Additional Repositories" section. (If the box is blank verify the URL entered matches the one in the email.)
The remaining steps need to be completed on the Squeezebox™ Radio.